Jessica Stephen has always had an aptitude for numbers. From the age of 9, she kept a ledger of what was in her bank account with a personal cash register.
"I always like to know how much I have and what I can spend. It's made all the difference."
Now, her critical skills make her the perfect Controller for Blooming Color. A Naperville native, Jess returns to the region after time spent living in Vermont and New Jersey.
"I love the puzzle aspect of accounting. There's always something you need to learn and discover – then you find where it fits."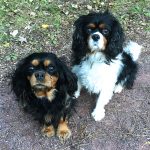 Jessica's keen insight is instrumental at Blooming Color, where her dry wit and two adorable dogs Beckett and Edie (short for Edelweiss) are always appreciated by all.
"I just like the way Blooming operates. They're constantly giving back, valuing their community and their people. It's a worthwhile thing to be involved in. And they ink the impossible, so, you know."
She's also an expert in life's priceless values. An avid hiker, Jess is no stranger to committing to a journey, and seeing it through. When she's not keeping the company books on track, she crochets, knits, cooks (try all of her soups), and bakes cakes.
But one of her greatest loves is gardening – it goes perfectly with her love of growth and renewal.
"Gardening is such a relaxing, healthy thing. When you work outside with the soil, it does so much for your mental and physical health – it's not really quantifiable."
That same green thumb comes in handy as she cultivates Blooming Color's economic future.
"Being able to understand the health of a company's finances is critical to expanding, hiring more people, and generally generating a profitable business endeavor."
We're excited to see how she helps us grow.