THE TYPESET
The IHA is the lobbying arm for hospitals in Illinois, and a long-time partner of Blooming Color. They align advocacy and influence leadership to reform the delivery of healthcare across the state of Illinois. But they had some logistical printing hurdles that were impeding their brand and their bottom line. Paging Blooming Color.
THE IMPOSSIBILITY
The patient came into our office, presenting with printing fatigue.
In 2011, the IHA had 5 different offices in Naperville, Springfield, Milwaukee and DC. It was difficult to coordinate collateral – a manual procurement and fulfillment process was eating up IHA staff time, and multiple vendors across several offices was impossible to manage. All the while, they were hemorrhaging funds doing their printing in-house.
The Blooming Color team came together and quickly diagnosed the problems, and started to treat them.
What if we helped our client spend their dollars in a smarter way?
What if we eliminated the need for in-house print shop?
What if we inked the impossible?
THE INK
Like your mother always said, "An inkflö a day keeps disorganization at bay".
The user-friendly, data-driven printing platform allowed for streamlined, real-time inventory management of their print collateral and promotional merchandise, with the ease and speed their organization can't go without.
The online portal offered an all-new level of accessibility, allowing IHA employees to easily order business cards, letterhead, brochures and more with ease on an as-needed basis, rather than needing to print and store collateral that would have gone unused.
Sure enough, inkflö proved the perfect inoculation to inefficiency and unnecessary spending – the ability to print on demand allowed IHA to focus on what they do best.
By completely automating the print ordering and fulfillment process, print management is efficient and easy. Nothing impossible is incurable.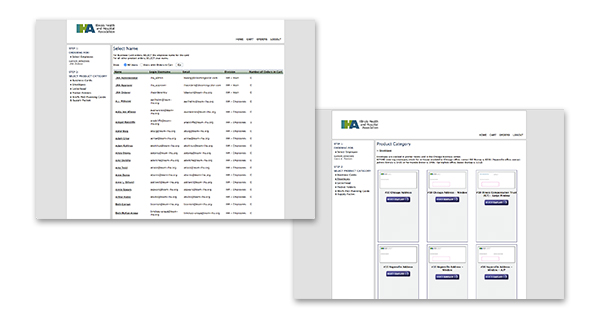 THE POST-PRINT
By introducing our inkflö portal, we were able to drastically improve the health of our client's business.
When before there was frustration, there was now simplicity – every IHA employee had their own user name and password to allow for individual order access, with a built-in approval mechanism for management. We fulfill and ship their orders to them, headache-free.
By consolidating their collateral to Blooming Color, IHA was able to eliminate 40,000 sq. ft. of unnecessary facilities and storage.
And with our industry-leading equipment, IHA was able to improve the quality of the collateral itself – they upgraded from a 2 color to a 4 color logo, and were able to order envelopes in smaller quantities by using our premier, print-on-demand platform known as inkflo.
The brand is consistent, revamped, and revitalized, particularly after a massive merger.
Our customer service cares about all of our print patients, and does regular check-ups to ensure that everything is functioning efficiently and smoothly.
Reports Laura Dawson, Director of Communications, "Blooming Color's insight always helps our business. inkflö has been the key to solving our problems, and the future of fulfillment is definitely here."
Take two, and call us in the morning.