THE TYPESET
At Blooming Color, there's no horizon we won't cross for a client. Edward-Elmhurst Health was looking to raise awareness of the locations and services of their Immediate Care and Walk-in Clinics opening throughout the suburban Chicagoland area. They turned to us to ink the impossible.
THE IMPOSSIBILITY
Edward-Elmhurst Health was competing in an over-saturated quick care market.  They sent out hundreds of thousands of postcards to potential patients to educate them about the new locations and services, but the generic collateral wasn't getting the response they needed. Luckily, Blooming Color specializes in helping our customers stand out, and stand apart.
THE INK
For an organization on the cutting-edge of medicine, we provided the pinnacle of print.
Dynamic Mapping allowed Edward-Elmhurst Health the ability to customize each postcard with personalized information, and even include a map from the individual's home to the nearest Edward-Elmhurst Health Immediate Care or Walk-in Clinic location – to within a tenth of a mile.  All we needed to create an unforgettable print piece was an artwork file for the postcard with a blank space for the map to be inserted.
Because in our world, something special isn't costly and rare, but the goal of every print. And with Blooming Color's unforgettable work, you'll never get lost in the crowd.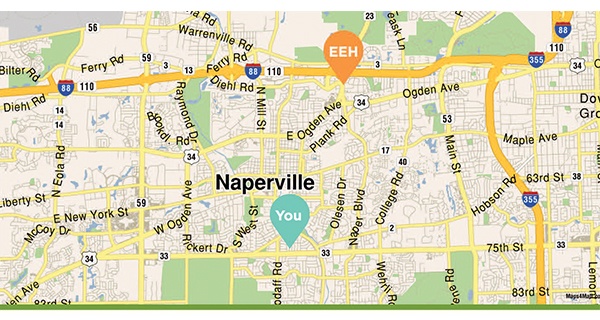 THE POST-PRINT
By printing with the infinite possibility of innovation, our stand apart strategy proved to be a vaccine against generic print. The geocoded Edward-Elmhurst Health postcards were mailed to hundreds of thousands of potential patients. Our Dynamic Mapping solution was so successful, that Edward-Elmhurst Health has continued to run the campaign twice a year for the last two years.
The task at hand may seem impossible. But whatever printing horizon you're looking to cross, Blooming Color will take you there with innovative print.